Long Distance Movers Boston
Long Distance Movers in Boston
Without the right kind of preparation, any move can be stressful. You will find that our private, flat rate long distance movers in Boston are the best choice for any move to our from Boston.  Monster Movers is not affiliated with any van line, broker, franchise or third party which means our long distance moves are all done by our team from start to finish. Our moving helpers will never swap, sell, barter, trade or compromise your shipment.  Whether you are moving to NYC, Florida or all the way to Colorado, our moving crews will ensure your shipment is never offloaded, shifted or reloaded with any other shipments. We do this to ensure minimal damages and loss. We guarantee we are the best value for your long distance move.
Monster Movers is Boston's Best Mover from expertise and will be featured all of 2020-2021 and we are also move-line verified. Only the top 5% of movers have the move-line distinction which ensures we are licensed, insured, have outstanding customer service, maintain stellar reviews, have been in business for over ten years, and have an exemplary safety record.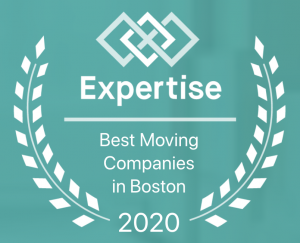 Long Distance Moving Costs
Long distance moving costs in Boston can range in the thousands.  Boston residents will face astronomical moving costs when using a van line, franchise or affiliate due to the fact that these third party companies take 30% off the top of each long distance moving transaction.  Hiring a private flat rate moving company in Boston will eliminate those fees and if you hire a long distance mover that has experience and is reliable you will have the same service for less. Monster Movers knows you will find our rates are the most competitive and cost-effective. On long distance moves, we utilize industry-standard pricing, which is based on origin and destination zip codes and weight. Our competitive pricing, backed up by outstanding service offers you the best value in the industry. Due to COVID our team will no longer be performing in-house estimates but we have updated our software to allow customers to upload pictures, video and we have implemented an online inventory that takes an average of five minutes to complete. After sending over the information, you will receive a guaranteed not to exceed flat rate moving price. Get a moving quote here.
Long Distance Moving Help
At Monster Movers Boston, outstanding customer service starts with your first contact to one of our move consultants. Your move consultant will take a full and accurate inventory of items to be moved to determine the weight of your shipment, any specialty handling, or permits necessary. An accurate determination of the cost factors involved in your move will allow you to better determine the services that fit in your budget. Your move consultant will work with you to tailor your move to fit your needs and your budget. We understand that you are the best person to decide what your needs are.
Long Distance Moving Companies in Boston
Why you should hire Monster Movers as you long distance mover to or from Boston
AWARD WINNING: Expertise Best Movers of Boston 2020-2021
NATIONALLY RECOGZIZED:

Best Local Moving Company to Go National Boston – WGBH

FULL TIME MOVING CREWS: 2017-2020 Best Movers of Massachusetts
RELIABLE, SAFE, EXPERIENCED MOVERS: 20 year history performing 6,000 long distance moves